Harnett County to Celebrate Veterans in Upcoming Ceremony and Launch 'Operation Green Light'
Wednesday, November 1, 2023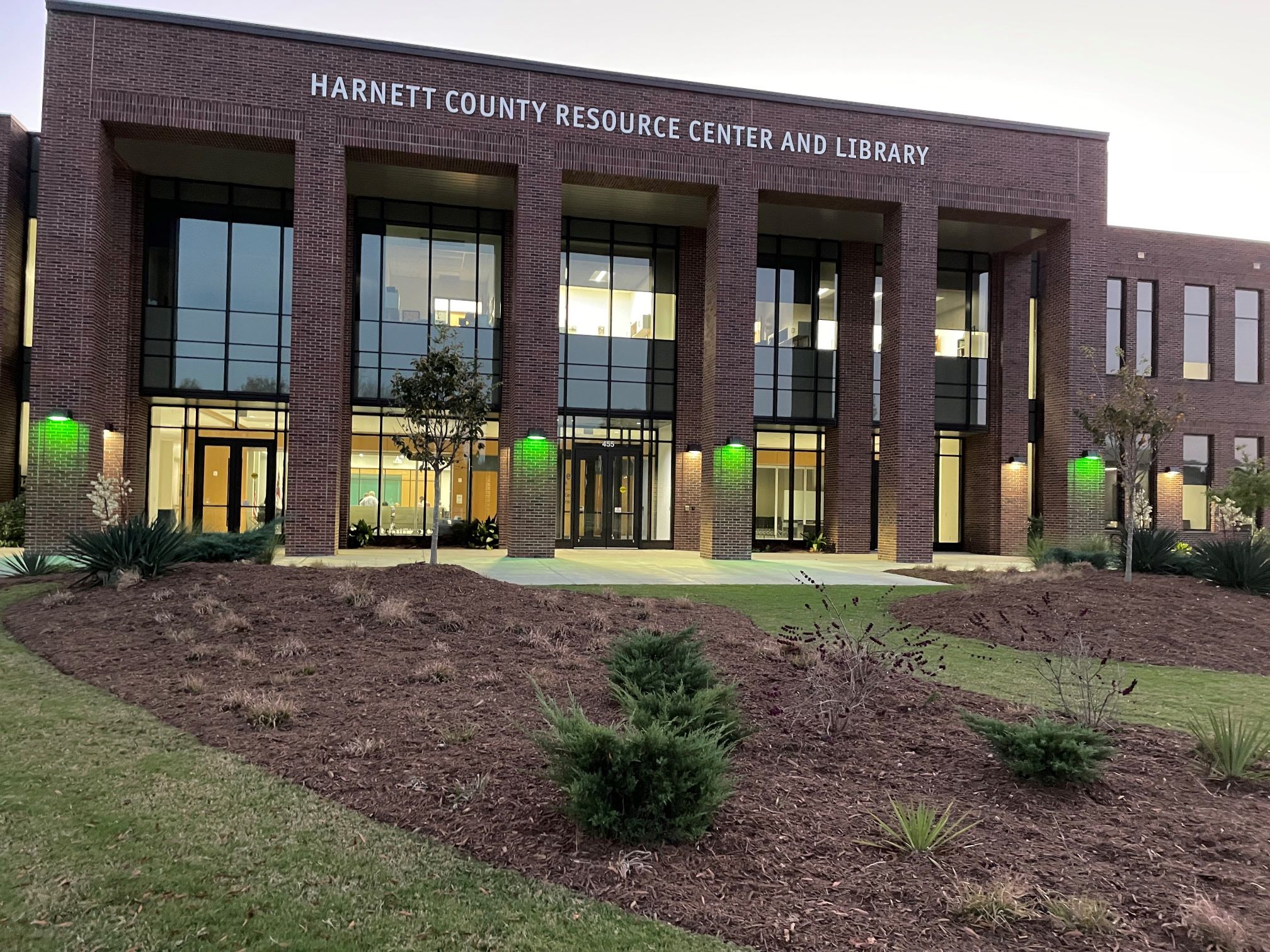 Harnett County Veterans Services will host a Veterans Day Ceremony on November 10 at 11 a.m. The ceremony will be held in Harnett County Veterans Park at 455 McKinney Parkway in Lillington.
This year's guest speaker will be Brent Trout, Harnett County Manager.
Trout joined the army at age 20 as a Private First Class (PFC) and retired as Lieutenant Colonel after serving 29 years.
"It is an honor to serve in the military," said Trout. "Whether you served for one year or many years, nothing can take away from the fact that you answered the call to help defend our country from our enemies. It is important to take this opportunity each year to thank all that served in our military."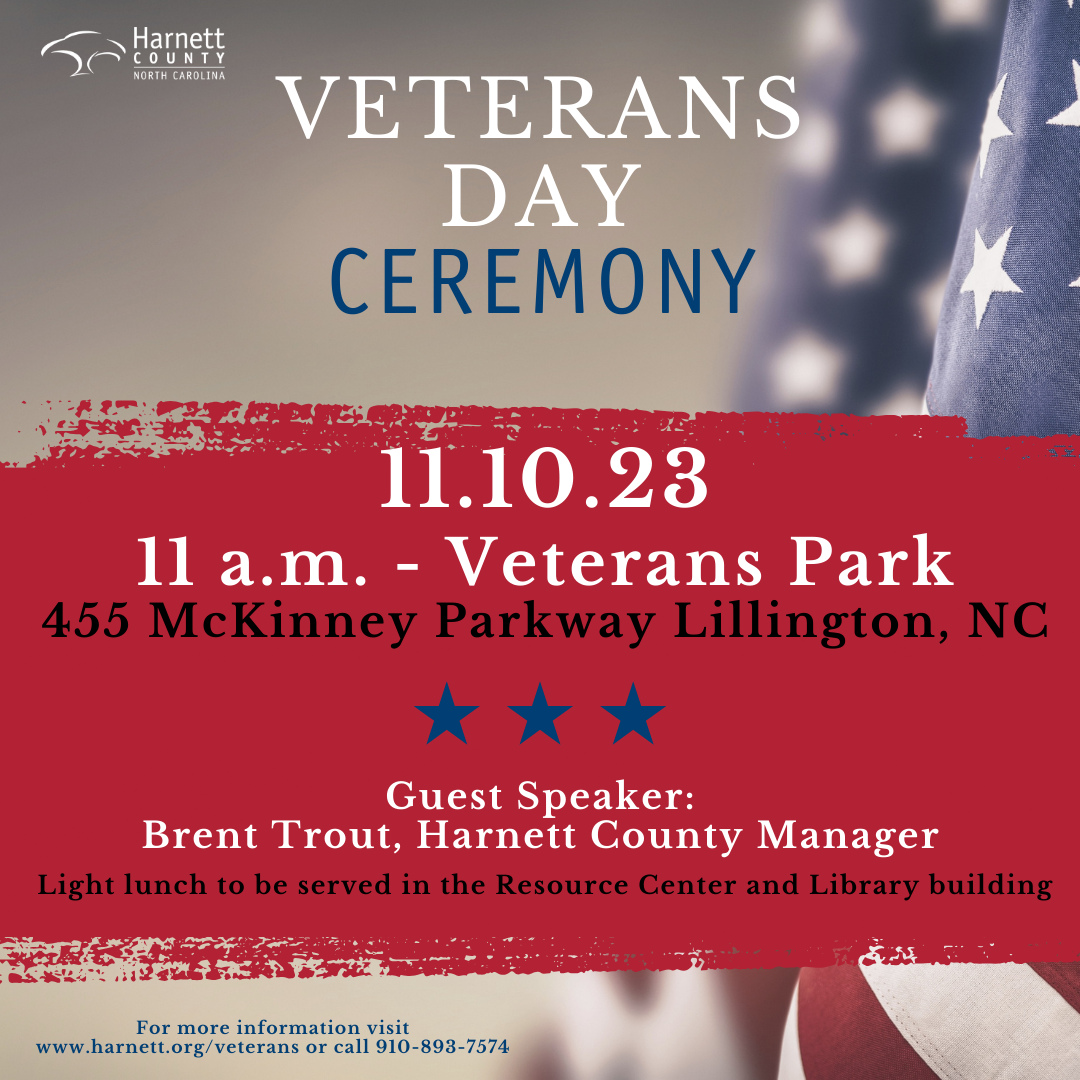 According to the Department of Veteran's Affairs 2020 census, 12,241 veterans live in Harnett County. Each of these veterans are invited to join the upcoming ceremony.
Veterans' family and friends, active-duty service members and community members interested in celebrating veterans are also invited to attend. The event is free and open to the public.
Following the ceremony, a light lunch will be served.
Operation Green Light
Harnett County plans to illuminate county buildings green from November 6-12 as part of Operation Green Light for Veterans in preparation for the upcoming Veterans Day holiday.
Now in its second year, Operation Green Light is spearheaded by NACo and the National Association of County Veterans Service Officers. Operation Green Light is a nationwide effort uniting counties to support military veterans. The initiative raises awareness around the unique challenges many veterans face and the resources available at the county, state, and federal levels to assist veterans and their families.
"It is important for our citizens, businesses, churches, and communities to participate in Operation Green Light because it shows that we care about our veterans," said Eric Truesdale, Veterans Services Director at Harnett County. "It shows that they are welcome, appreciated, important, and they are vital to our Nation, our County, and our communities. Their sacrifices have ensured the freedoms that we enjoy today."
In addition to lighting county buildings, bridges, and other meaningful landmarks, residents, businesses and other organizations are encouraged to participate by simply changing one light bulb in their home to a green bulb. This can be an exterior light that neighbors and passersby see or an interior light that sparks a conversation with friends. Shining a green light lets our veterans know that they are seen, appreciated, and supported.
Veteran's Flag Ceremony
Harnett County Department of Social Services will host a Veterans Day Flag Ceremony on November 8 at 10 a.m. to honor veterans and their sacrifices.
This event will take place outside of the agency building located at 311 West Cornelius Harnett Boulevard in Lillington.
Harnett County invites the community to participate in any of these ceremonies or initiatives.
---
Harnett County is one of the fastest growing counties in North Carolina with approximately 140,000 residents. Harnett's tagline of "Strong Roots, New Growth," describes a county in transition, one that values its rural agricultural heritage while also embracing new growth and industry. Harnett County is optimally located just between North Carolina's capital city of Raleigh and the internationally recognized Research Triangle Park to the north, and the nation's largest military installation in Fort Bragg to the south.
For more information, contact Community Relations Director, Desiree Patrick at publicinfo@harnett.org or 910-893-7555.