More North Carolinians can get health care coverage through Medicaid
Tuesday, November 14, 2023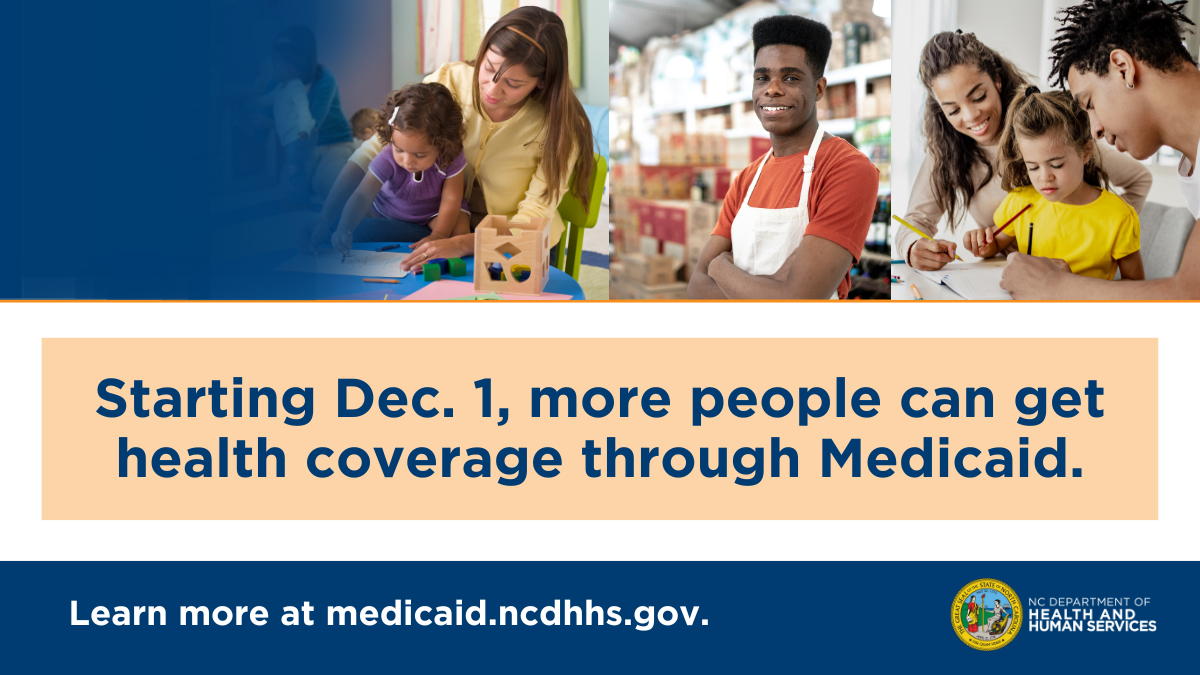 The North Carolina Health and Human Services announced that beginning December 1, 2023, Medicaid will cover people ages 19 through 64 with higher incomes.
If individuals did not qualify before, they may be eligible now.
Medicaid is a joint federal and state program that helps to cover medical costs for doctor visits, yearly check-ups, emergency care, mental health services, prescription drugs, dental, and more. There are no monthly premiums for individuals receiving Medicaid.
"Medicaid expansion will allow individuals and their families to have access to health care coverage who previously have not been able to find it. There are approximately 9,700 individuals in Harnett County that may be eligible for the service. The employees of Harnett County Department of Social Services look forward to serving the citizens of our great county," said Paul Polinski, Harnett County Director of Social Services.
Individuals must meet the below criteria to be eligible to receive coverage:
Live in North Carolina
Age 19 through 64
Are a citizen. Some non-U.S. citizens can get health care coverage through Medicaid. To learn more visit https://medicaid.ncdhhs.gov/
Have a household income that is below 138% of the federal poverty level. That's about $20,000 for a single adult or about $34,000 for a family of three.
People can apply for Medicaid online at epass.nc.gov or complete the paper application and submit it to their local Department of Social Services.
To learn more visit https://medicaid.ncdhhs.gov/
---
Harnett County is one of the fastest growing counties in North Carolina with approximately 140,000 residents. Harnett's tagline of "Strong Roots, New Growth," describes a county in transition, one that values its rural agricultural heritage while also embracing new growth and industry. Harnett County is optimally located just between North Carolina's capital city of Raleigh and the internationally recognized Research Triangle Park to the north, and the nation's largest military installation in Fort Bragg to the south.
For more information, contact Community Relations Director, Desiree Patrick at publicinfo@harnett.org or 910-893-7555.