Cape Fear Valley/Harnett Health Breaks Ground, Further Invests in Harnett County's Growth
Tuesday, August 29, 2023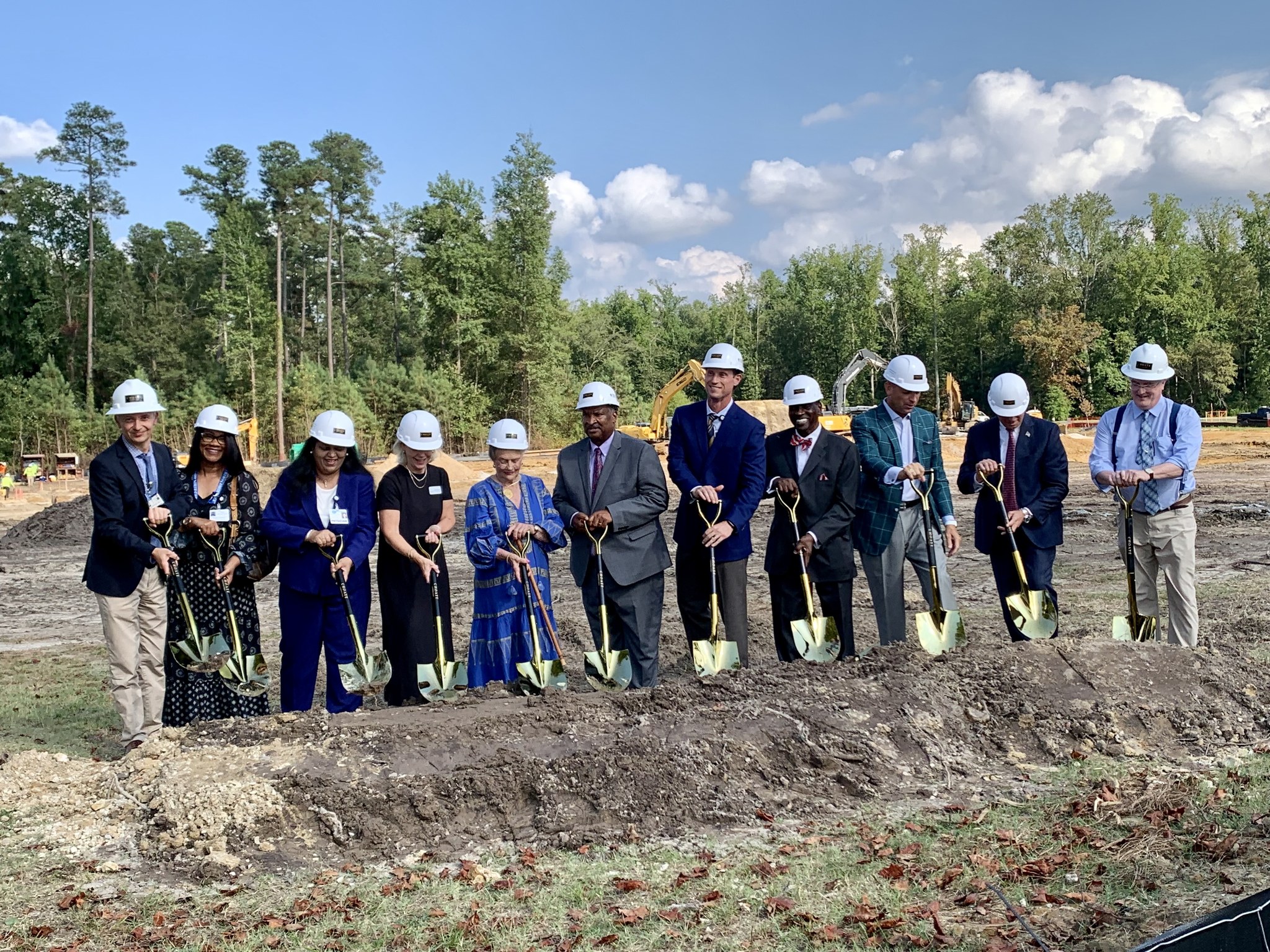 Groundbreaking at Central Harnett Hospital
Harnett County, N.C. - August 29, 2023 - Ground was broken yesterday at the Brightwater Technology Park in Lillington to celebrate the start of a project that will have an incredible impact on Harnett County and its residents needing access to care locally. The project will be both necessary and transformational as the County continues to see exceptional population growth.
Plans for a comprehensive Cancer Center and Medical Arts Building at Central Harnett Hospital were announced by Cape Fear Valley/Harnett Health in May 2023 and include a three-story, 70,000-square-foot Medical Arts Complex, which will be anchored by a new Cancer Center. According to the Harnett Health Foundation, proposed plans for the Cancer Center include a linear accelerator (LINAC) that will provide radiation therapy that targets and destroys cancer cells; a CT scanner that will identify early signs of cancer; an infusion bay that will double the number of infusion chairs and provide chemotherapy to more patients; private patient rooms and consultation spaces; a volunteer office for community members who offer their time and resources to enhance cancer care; and a Radiation Oncologist that will join the Cancer Center team, bringing together all cancer care providers in one location.
As for the medical office building, tentative plans for the facility also include specialists such as Orthopedics; Ear, Nose, and Throat; a surgical clinic, Neurology; Cardiology, and Rheumatology.
In 2017, Harnett County Government to include the County Manager, Harnett County Economic Development, and Public Utilities departments, along with the Harnett County Economic Development Partnership (formerly the Harnett County Properties Corporation), began the process of laying the foundation for future development in Brightwater Technology Park. Together, County Staff worked to prepare, draft, and submit the project to the Golden LEAF Foundation for funding consideration to finance the design and construction of infrastructure to support Phase II of the Brightwater Technology Park.
Harnett County was awarded $500,000 in Golden LEAF funds to be used for the design and infrastructure construction in 2018.
Thanks to the Golden LEAF Foundation's Community-Based Grants Initiative (CBGI), and a local match from Harnett County Government, the construction of water, sewer, road, and drainage improvements to extend infrastructure into Phase II of the Park was completed. The funding provided critical infrastructure reducing site development cost to private business providing for continued and sustainable growth.
"I am grateful for the partnerships and collaboration that went into securing the resources needed to finance the infrastructure improvements at Brightwater," said Angie Stewart, Interim Director of Harnett County Economic Development. "It is an exciting day for us all in Harnett County."
Golden LEAF's CBGI is competitive and designed to identify projects with the potential to have a significant impact. The process targets investments in the building blocks of economic growth and is limited to projects that address job creation and economic investment, agriculture, and workforce preparedness.
Harnett County's case to secure Golden LEAF funding in 2017 outlined how the investment in Brightwater Technology Park would not only promote economic growth and position the Park for future development, but also improve the retention of human/physical capital, increases healthcare services, promotes workforce development and job creation, and create jobs with above average wages in Harnett County.
Through this expansion of medical services locally, students at Campbell University will have access to additional opportunities to engage and learn within their community. For example, students in Campbell University's Jerry M. Wallace School of Osteopathic Medicine, the first and only osteopathic medical school in the State of North Carolina, will travel just four miles to the new medical office building and specialty practices at Central Harnett Hospital's campus to complete a clinical rotation versus further commutes to surrounding-area health systems.
Future plans
Central Harnett Hospital opened its doors in January 2013 marking the single largest capital investment in Harnett County at that time. To date, Central Harnett Hospital provides 44 private inpatient nursing rooms for Medical/Surgical/Telemetry, a 24-hour Emergency Department with ER Express, three surgery suites and a minor procedure room, imaging, including CT, MRI, Ultrasound, Mammography; and Cardiovascular diagnostics.
In August 2023, Harnett Health expanded their footprint in Lillington with the purchase of 26 additional acres across 11 lots in Brightwater Technology Park from the Harnett County Economic Development Partnership (HCEDP). The HCEDP is a 501(c)(3) nonprofit organization supporting the attraction and expansion of businesses creating jobs and investment in Harnett County.
"I am grateful for Harnett Health's continued investment in Harnett County and our citizens," said Harnett County Manager Brent Trout. "Harnett County Government, along with our local and state partners, have much to celebrate as this vision becomes reality."
While development plans for the newly purchased land in Brightwater Technology Park are still in the early stages, a new adolescent behavioral healthcare unit has been shared as a future tenant.
Harnett County is located between Raleigh and Fayetteville and is one of the fastest growing Counties in North Carolina. The community is home to Campbell University, Central Carolina Community College, and encompasses the communities and growth areas of Angier, Coats, Dunn, Erwin, Lillington, and Anderson Creek.
To learn more about Economic Development in Harnett County visit www.harnettedc.org
-------------------
For more information, please contact Community Relations Director, Desiree Patrick, at publicinfo@harnett.org or Marketing Director for Harnett County Economic Development, Elizabeth Edwards, at eedwards@harnett.org.