Harnett County Chief's Association receives South River Grant to support Smoke Alarm, Canvassing and Installation campaign
Friday, October 13, 2023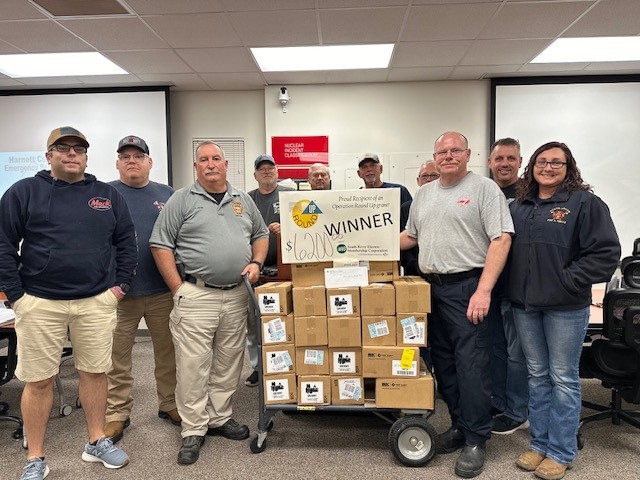 (Left to right) Josh Sorrell, Brian Heath, Alan Jarvis, Mike Brown, Chris Prince, Ricky Edwards, Shawn Tripp, Jamey Roberts, Allen Monds, Sarah Tart
South River Electric Membership Corporation provided $6,200 to the Harnett County Chief's Association on Monday, October 6, to support the Smoke Alarm, Canvassing, and Installation Campaign.
The Harnett County Chief's Association and the Harnett County Fire Marshal's Office partnered to launch the Smoke Alarm Campaign in July 2023.
The funding has allowed the Chief's Association to purchase over 250 smoke alarms and three-bed shakers.
Catherine O'Dell, VP of Member Services and PR at South River Electric Membership Corporation stated the funding is part of Operation Round-up, a voluntary program that helps to fund and support the community and community organizations to build a better community for all.
"The Chief's Association was inspired by the safety aspect of the application," said O'Dell. "We felt that it was a program worthy of funding because it helps to save lives across Harnett County."
The grant allows the Association to continue providing Harnett County residents with free smoke detectors.
Harnett County residents who do not have operating smoke alarms in all sleeping areas of their homes and would like a free smoke detector installed can complete the smoke alarm request form here.