Harnett County Animal Services increases partnerships for fostering
Wednesday, September 13, 2023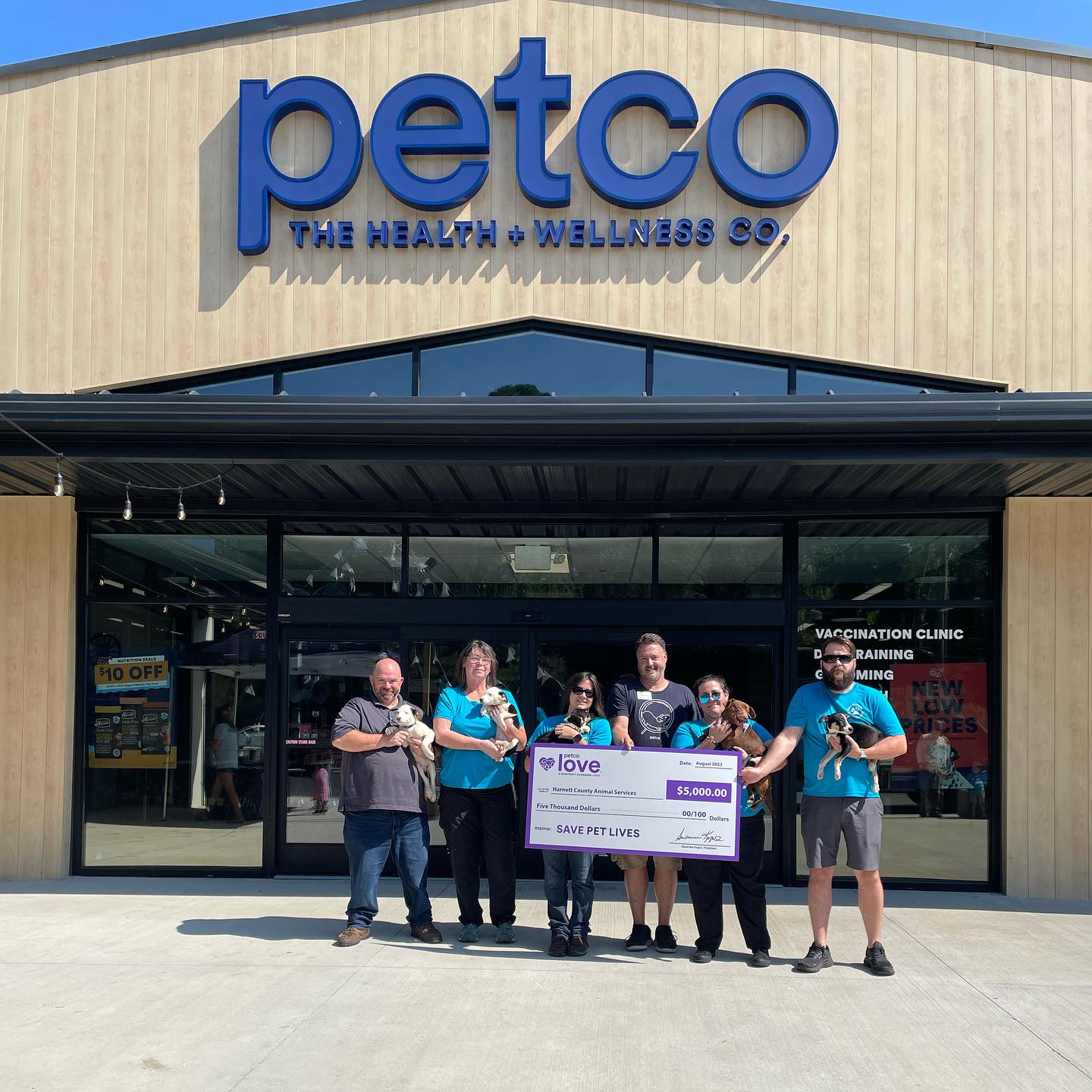 Adoption event slated for September 16
Harnett County Animal Services has been establishing partnerships with organizations to increase animal fostering throughout the county. The next adoption event will occur on Saturday, September 16, from 10 a.m. until 2 p.m. at Petco, located at 2450 W. Cumberland Street in Dunn.
The new Petco opened in August and adopted over 50 cats from the Harnett County Animal Shelter to offer at their store. Petco also provided Harnett County Animal Services with a $5,000.00 check on September 8 to support the efforts at the Animal Shelter.
Since April 2023, Animal Services has hosted four adoption events and fostered 60 animals through partnerships with organizations like Petco, Wine & Design- Clayton, and Cary Fit Project.
"Adopting a pet from a shelter saves more than just one life; by adopting from the Harnett County Animal Shelter, you help free up space at the shelter for more animals in need, but also help reduce the pet population," said Lawrence Smith, Animal Services Manager at Harnett County. "Our animals are altered and fully vetted to include microchipped, which in turn reduces the spread of communicable diseases and increases our efforts in helping lost animals find their way back home."
The Harnett County Animal Shelter will host adoption events at the Dunn Petco on the second Saturday of each month: September 16, October 14, November 11, December 9, and January 13, 2024. The adoption events are free, and individuals are invited to attend.
The Animal Shelter will also host a rabies clinic on November 4 from 10 a.m. until 2 p.m. at the Animal Shelter located at 1100 McKay Place in Lillington.
"Animal Services is a community-oriented organization resolving issues in the field first, but when necessary, providing a safe, healthy & welcoming shelter whose goal is to reunite or rehome altered pets. Spay/neuter is key to reducing homeless, unwanted pets. We thank the many partners who help in these efforts," said Barry Blevins, General Services Director at Harnett County.
Harnett County Animal Shelter is open for adoptions Tuesdays, Thursdays, and Fridays from 1 – 4 p.m. and Saturdays from 10 - 2 p.m. The shelter has a variety of animals, such as cats, dogs, chickens, roosters, cattle, goats, rabbits, and horses that are available for adoption.
For more information on animal adoptions or if your organization is interested in becoming a partner, call 910-814-2952 or visit www.harnett.org/animalservices
---
Harnett County is one of the fastest growing counties in North Carolina with approximately 140,000 residents. Harnett's tagline of "Strong Roots, New Growth," describes a county in transition, one that values its rural agricultural heritage while also embracing new growth and industry. Harnett County is optimally located just between North Carolina's capital city of Raleigh and the internationally recognized Research Triangle Park to the north, and the nation's largest military installation in Fort Bragg to the south.
For more information, contact Community Relations Director, Desiree Patrick at publicinfo@harnett.org