Commissioners Approve County's First Strategic Plan
Wednesday, February 16, 2022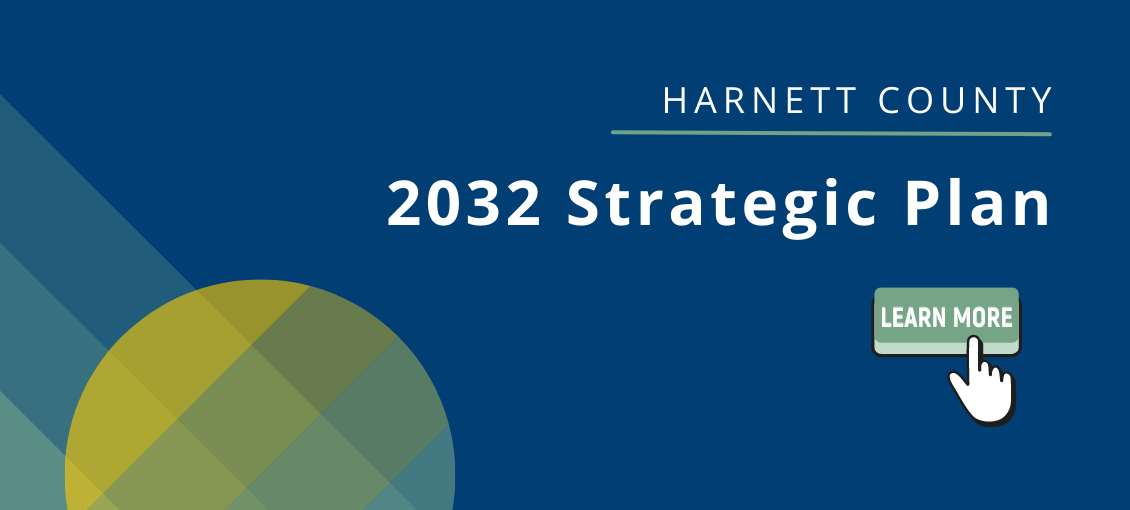 The Harnett County Board of Commissioners approved the County's inaugural Strategic Plan at their February 7 regular meeting. The 2032 Harnett County Strategic Plan will serve as a guide for the Board and County departments over the next decade.
"I want to thank my fellow Commissioners for their leadership and direction in making this plan a reality as well as our County employees and citizens for their participation and input into this process," said Harnett County Board of Commissioners Chairman Lewis Weatherspoon. "This comprehensive plan establishes clear priorities and provides a roadmap for the County moving forward."
Mission, Vision, and Core Values
The Strategic Plan articulates a dynamic and exciting vision for the future of Harnett County, along with a mission for County Government and five strategic goals that are intended to make that vision a reality. The plan also includes a set of shared core values for Harnett County Government, and objectives under each goal with key strategic actions aimed at accomplishing those objectives.
The County's new vision describes the ideal state of Harnett County in 10 years and focuses on the community's future.
"Harnett County is a unified, safe, healthy, and engaged community that is culturally vibrant, well-planned with a thriving economy and a high-quality educational system, in harmony with its environment and beautiful natural resources, and with strong leadership ensuring equitable services so that all citizens will prosper."
The new mission statement defines the County's role in pursuing the community's vision.
"Harnett County will effectively and efficiently deliver high quality County services and public infrastructure with smart growth strategies and through a responsive Board and workforce who are committed to excellence and ensuring the public trust with dedication, leadership and governance."
The County's core values define employees' standards of behavior and acknowledge that Harnett County employees are public servants whose purpose is to CREATE a better Harnett County. The values are:
Customer Service
Respect
Ethical & Fair Treatment
Accountability
Teamwork
Excellence
"The adoption of a vision, mission and values statement is critical in guiding staff in their efforts to improve our county and in doing so honor our values as an organization," stated Harnett County Manager Brent Trout.
Strategic Goals
The 2032 Strategic Plan focuses on five Strategic Goals that reflect the County's priorities for the next three years. They are:
Superior Education
Organizational Excellence
Healthy & Safe Community
Economic Strength
Informed & Engaged Citizens
Each goal includes a set of objectives along with key strategic actions for the coming year. To view each goal's objectives and strategic actions, visit the County's webpage at www.harnett.org/publicinfo/strategic-plan.asp.
The Strategic Planning Process
The strategic planning process kicked off in June 2021 with a retreat for County Department Heads where they were introduced to strategic planning and high performance structures, and identified strategic priorities for the County. A Board of Commissioners retreat was held in August, during which the Board identified vision, mission, and core value themes, along with strategic goals and priority themes. Following the workshops, the County sought input from the public and County employees.
"The process of developing this Strategic Plan was an inclusive one that offered opportunities for both County employees and the County's citizens to provide feedback, which informed the plan," stated Chairman Weatherspoon. "We wanted to develop Strategic Goals that every County department and employee can see their role in accomplishing, and that every citizen feels will improve their lives."
The County held two virtual workshops and one in-person workshop for citizens in the Harnett County Resource Center and Library in Lillington. County employees were also invited to attend one of two employee workshops to share priorities and to learn more about the process. Citizens and employees were also asked to complete a short survey to provide input, which was incorporated into the approved Plan. The surveys contained demographic questions to help ensure the County received diverse perspectives. The County received 776 survey responses from citizens and 263 survey responses from employees.
The County partnered with the University of North Carolina School of Government's Center for Public Leadership and Governance to develop the 2032 Strategic Plan.
"I want to express my appreciation to our consultants, Rebecca Jackson and Lydian Altman, for their support of the County's strategic planning efforts," said Chairman Weatherspoon. "We look forward to continuing our work with them as we transition from plan adoption to implementation."
This Spring, County officials will develop Key Performance Indicators (KPIs) that will be used to measure progress toward accomplishing each strategic goal. The County will also create an annual performance report that will be available to the public to highlight accomplishments and track progress on the plan.
"This effort will begin quickly to accomplish the goals created in the Strategic Plan," said Trout. "The ambitious goals the Board established will provide quality service to our residents now and set the County up for successful growth in the future."
Harnett County's 2032 Strategic Plan can be viewed at www.harnett.org/publicinfo/strategic-plan.asp.
For more information on the County's strategic planning efforts, contact Harnett County Manager's Office at 910-893-7555.