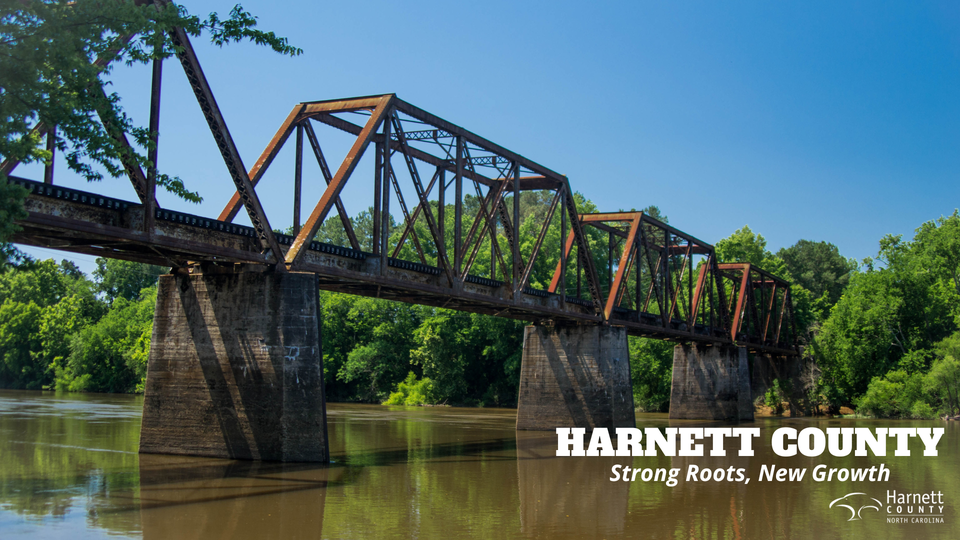 WHY CHOOSE HARNETT COUNTY
Harnett County is one of the fastest growing counties in North Carolina with approximately 140,000 residents. Harnett's tagline of "Strong Roots, New Growth," describes a county in transition, one that values its rural agricultural heritage while also embracing new growth and industry. Harnett County is optimally located just between North Carolina's capital city of Raleigh and the internationally recognized Research Triangle Park to the north, and the nation's largest military installation in Fort Bragg to the south. The county is also centrally located in North Carolina and is within close proximity to the Great Smoky Mountains and Blue Ridge Parkway, and to the numerous Atlantic Ocean beaches and the Outer Banks. Harnett County also possesses abundant natural resources including nearly 6,000 acres of park land and 26 miles of hiking and walking trails. Harnett is home to Raven Rock State Park and some of the best white water rapids in the region along the Cape Fear River. When you choose Harnett County, you are getting a rural, comfortable living that is experiencing booming residential growth, all within miles of Raleigh, Fayetteville, Fort Bragg military base and so many amenities that accompany those areas.
FIRE MARSHAL JOB OPPORTUNITIES
The Harnett County Fire Marshal and his staff provide 24-7 coverage for our residents and citizens. We have five full time staff and numerous part time staff that assist with all the duties of Fire Marshal. Our County has one full time Deputy Fire Marshal on duty 24/7 to assure quick response to assist with fire operations, investigations and enforcement of statutes, codes and ordinances. We are currently seeking dedicated individuals who are able to perform technical work in fire inspection, fire prevention, education, and arson fire investigation services for Harnett County Emergency Services. Work includes: performing fire code enforcement and inspections; providing technical consultations with fire departments; investigating cause of fires; performing public education regarding fires/emergencies; reviewing plans; establishing and maintaining records; analyzing information; preparing reports; and ensuring compliance with federal, state, and local policies and regulations in fire codes and hazardous materials management.
EMS JOB OPPORTUNITIES
Harnett County EMS prides itself on having innovative protocols, providing excellent patient care, and being integrated with today's best practices. Innovative cardiac monitoring is provided to the community with the use of the Zoll X Series monitors. The County has 16 Paramedic level ambulances based around the county, 3 BLS transporting units and a wheelchair van each shift that responded to just over 32,000 calls last year. The units are supplied with the power load system from Stryker to prevent injuries to the providers. The County also has a Tactical Medic team that responds with the Harnett County Sheriff's Department during classified situations. Lastly, the County has an active Community Paramedic Program. This program is tasked with following chronically ill and provide special care to help maintain a healthy life.
Harnett County provides a free health clinic for employees. Continuing education is provided to all staff on a monthly basis. The County pays the annual dues for all part-time and full-time employees to be a member of the North Carolina Association of Rescue and EMS. Harnett County maintains an excellent partnership with Campbell University School of Osteopathic Medicine in which providers attend regular simulation training and use the anatomy (cadaver) lab for real life experience.
EMERGENCY MANAGEMENT JOB OPPORTUNITIES
There are no current vacancies in our Emergency Management Division.