Commissioners December 5 Meeting Recap
Monday, December 5, 2022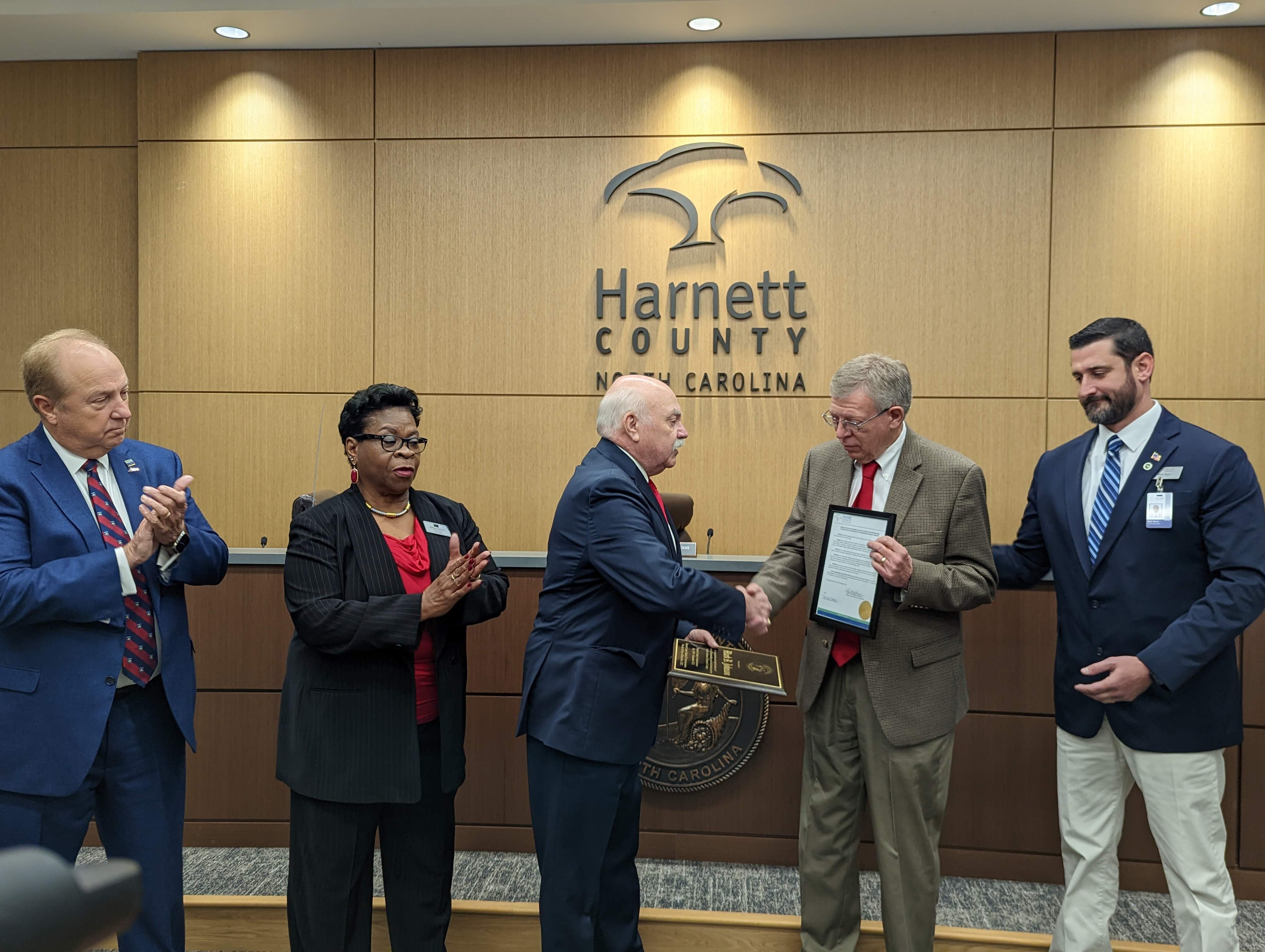 Harnett County Board of Commissioners held a regular meeting this morning, December 5, in the Commissioners Meeting Room at the Harnett County Resource Center and Library.
Commissioners kicked off the meeting approving several action items in the Consent Agenda. These action items included:
Approval of the November 15, 2022 work session minutes and November 21, 2022 regular meeting minutes;
Approval of a grant agreement with the City of Fayetteville, as the designated recipient of funding for urbanized area formula grants within the Fayetteville Area Metropolitan Planning Organization (FAMPO) defined urbanized area. The grant amount is $71,397 with NO matching local funds required. The period of performance is July 1, 2022 - June 30, 2022;
Approval of the HARTS Agency Safety Plan (ASP) as required by North Carolina Department of
Transportation/ Integrated Mobility Division (NCDOT/IMD). The plan specifically addresses transit safety through Safety Management System (SMS) development and execution;
Approval to terminate Review Officers that are no longer employed with Harnett County or are no longer in the GIS Division of the IT Department and update the Review Officers to include all current GIS Division employees;
Adoption of the updated Technology Use Policy. This policy covers the use of all technology resources belonging to the Harnett County. The main updates are on page 29 pertaining to the requirements for multi-factor authentication;
Approval for Investigator Truelove and Sergeant Lackey, retirees, to purchase service weapon;
Approval of the Public Official Bond for Harnett County Sheriff Wayne Alfred Coats in the amount of $10,000;
Adoption of two more Amendments to the ARPA/CSLFRF Grant Project Ordinance, which was created to establish a budget for projects utilizing American Rescue Plan Act/Coronavirus State and Local Fiscal Recovery Fund (ARPA/CSLFRF) funds. The first of these two Amendments will allocate $6,003,877 to the purchase of Motorola VIPER Radios for County Emergency Response Staff and local fire departments. The second will allocate $560,000 to premium pay for full-time employees of Harnett County Emergency Medical Services;
Adoption of a Resolution to sell certain real property owned by Harnett County and the City of Dunn on East Edgerton Street in Dunn, N.C.;
Adoption of a Resolution setting the 2023 Schedule of Meetings of the Harnett County Board of
Commissioners;
Approval of the following changes to citizen appointed boards and committees:

Commissioners would like to thank Ilia Smirnov for his service on the Harnett County District H Tourism Development Authority as his term has expired and he is not considered for reappointment.
Reappointment of Cecilia Del Prado, District 5 on the Harnett County Public Library Board of Trustees.
Reappointments of Roger Farina, District 5; Danny Honeycutt, District 3; Jim Johnson, District 4; Walter Massey, District 1; Jerry Milton, At Large Representative; Townsend Quinn, Campbell University Representative; and Jeff Whittington, Economic Development Representative on the Jetport Committee.
Reappointments of Jermaine White, School Superintendent or designee, Tracy Hair, Chief of Police or designee; Dominic Alvarado, Local Sheriff or designee; Michael Onufer, District Attorney or designee; Michelle Bennett, Chief Court Counselor or designee; Mary Spell, Director, AMH/DD/SA, or designee; Sarah Martzahl, Director DSS or designee; Brent Trout, County Manager or designee; Rev. Kimberly Whitted, Member of Faith Community; Barbara McKoy, County Commissioner; Avis Watkins Smith, Local Health Director or designee; Carl Davis, Representative/Parks and Recreation and Cindy Delgado, County Commissioner Appointee on the Juvenile Crime Prevention Council.
Appointment of Diane Mangum, District 2, to the Mid Carolina Aging Advisory Committee.
Next, Commissioners opened a public hearing to allow citizens an opportunity to comment on transportation needs and the proposed 5311 Community Transportation Program application, and Traveler's Aid application to be submitted to the North Carolina Department of Transportation, Integrated Mobility Division (NCDOT/IMD). There were no citizens to provide remarks during the hearing. Commissioners voted to approve the resolution to apply for this grant.
Commissioners then voted to table the discussion of the FY 2024-2030 Capital Improvements Program to the December 13, 2022 work session.
Next, a special presentation for Commissioner Mark B. Johnson was held recognizing his service to the County and its citizens. Commissioner Johnson joined the Harnett County Board of Commissioners on July 15, 2019, following the passing of former Commissioner Abe Elmore. He was elected to his first full term in the November 3, 2020 election and served as Chairman from September 2020 through December 2020. As a Commissioner, Johnson served on the Mid-Carolina Aging Advisory Committee, Harnett Properties Corporation, Averasboro Township Tourism Development Authority, Cape Fear River Assembly Board, and the Sandhills Center for Mental Health DDSHS Board of Directors.
Following the special presentation, Commissioners held a swearing-in ceremony for re-elected Commissioner Barbara McKoy, representing District 1, and newly-elected Commissioner William Morris, representing District 2.
County Attorney Dwight Snow served as the Master of Ceremonies and Apostle Addie Rawls provided the invocation.
North Carolina District Court Judge, Honorable Addie H. Rawls, administered the oath of office for Commissioner McKoy. McKoy was joined by her sisters, Rev. Sarah Bass and Hester McLean, and her nephew Freeman McKoy and his wife, Jacqueline.
North Carolina District Court Judge, Honorable Jimmy L. Love Jr., administered the Oath of Office for Commissioner Morris. Morris was joined by his wife, Genia.
Apostle Addie Rawls closed the ceremony with the benediction.
Next, Clerk to the Board, Melissa Capps, helped to reorganize the Board with the selection of the Chairman and Vice-Chairman. Commissioners voted to select Commissioner Matt Nicol as Chairman and Commissioner Bill Morris as Vice-Chairman. The new Chairman and Vice-Chairman will serve until the next reorganization in December 2023.
Following the reorganization, Commissioners opened a public comment period. There were no citizens to provide remarks during this period.
Commissioners then approved budget amendments as requested by the Finance Director. County Manager Brent Trout also provided his report, which included the Department of Social Services monthly report and interdepartmental budget amendments.
Following the County Manager's report, Commissioners discussed new business, which included the appeal of the Sheriff's elected official position and status of appointing the Sheriff's position.
Last, Senior Staff Attorney Chris Appel led discussions regarding the Northwest Water & Sewer District. The Harnett County Board of Commissioners are currently serving as the governing body of this Sewer District. Commissioners voted to approve the assignment of easements and deeds for the new Serenity housing development.
The next County Commissioners regular meeting will be held on Monday, December 19 at 6:00 PM. You can watch this morning's meeting in full by visiting Harnett County Government's youtube channel or the Commissioners webpage at harnett.org/boc.