Harnett County Manager's Office Will Host Next Citizen Information Session June 26
Friday, June 2, 2023
The session will be offered in-person and virtually on YouTube
The Harnett County Manager's Office will host the next Citizen Information Session on Monday, June 26 at 6:00 p.m. in the Resource Center and Library training room at 455 McKinney Parkway in Lillington, NC.

The Citizen Information Session is an opportunity to provide Harnett County citizens with a chance to learn more about County initiatives, programs, and services.

"We hope that you will join us to learn more about the recently approved budget and what the County is working on for the coming year. I will also be available to answer questions that you may have on any topic," said Brent Trout, County Manager.

The hour-long information session will include presentations by County Manager Brent Trout, Community Relations Director Desiree Patrick, Public Library Director Angela McCauley, Solid Waste Director Lynn Lambert, and Keep Harnett Beautiful Coordinator Morgan Pope.

"I look forward to meeting our citizens and getting the opportunity to share with them what the County has going on," said Desiree Patrick. "We want more citizens to participate and attend our information sessions. We host these sessions for them."

Questions may also be asked at the conclusion of the presentation as time permits.

If interested in attending, register here.

For more information on the citizen information sessions, contact Harnett County Public Information at publicinfo@harnett.org or 910-893-7555.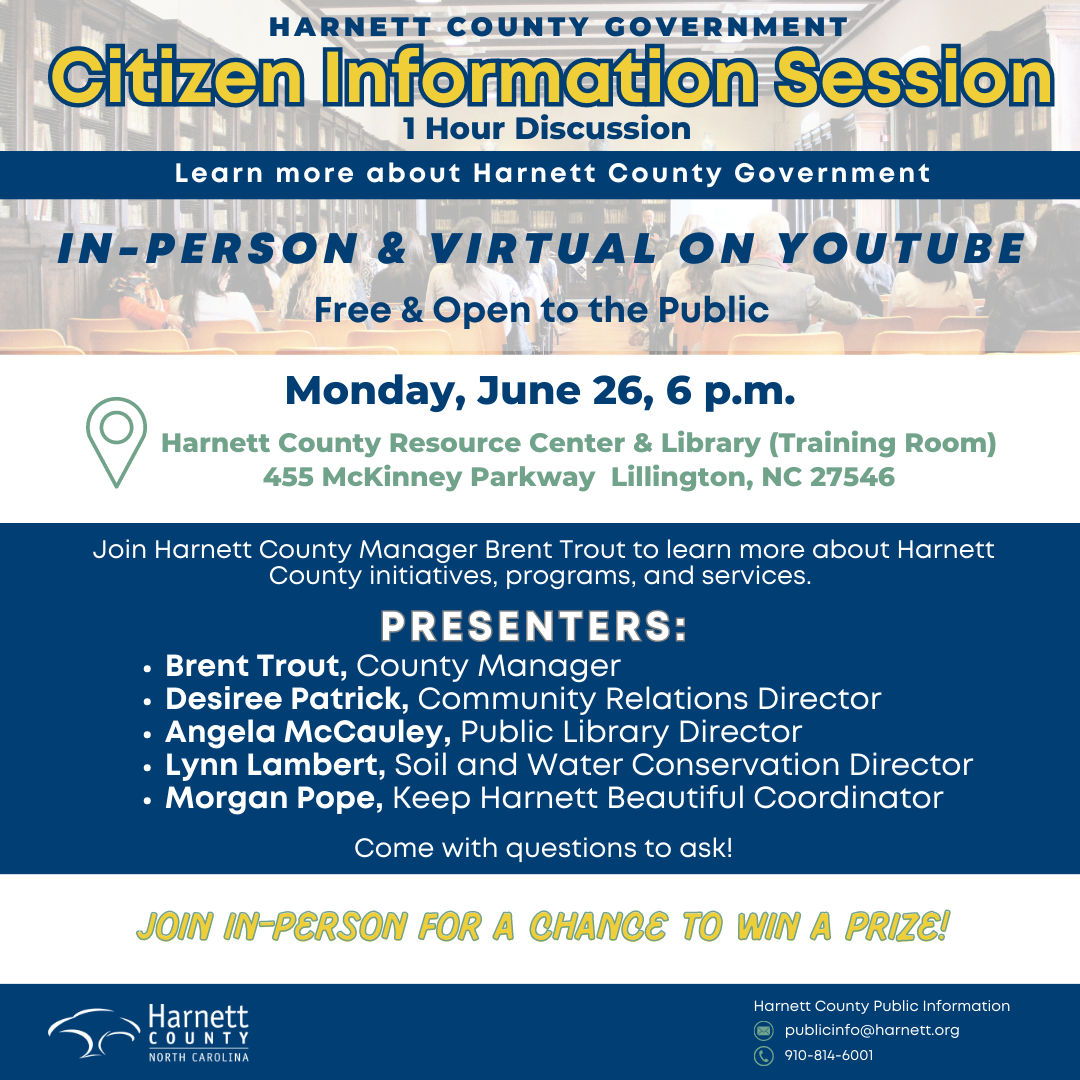 ________________________________
For more information, contact Community Relations Director, Desiree Patrick at publicinfo@harnett.org