Harnett County Fire Marshal Office announced on Monday that several Fire Districts within the county received an improved rating after recent inspections. The North Carolina Department of Insurance (DOI) and Office of State Fire Marshal (OSFM) inspects communities on a regular basis as part of the North Carolina Response Rating System (NCRRS).
The purpose of the inspection is to determine the Public Protection Classification (PPC) rating for the fire protection services protecting the community. Ratings are determined by a set of criteria, incorporating nationally recognized standards developed by the National Fire Protection Association and the American Water Works Association. OSFM staff collect and analyze information about the fire suppression efforts in the communities and assign a PPC rating between 1 to 10. Class 1 represents an exemplary fire suppression program, and Class 10 indicates that the area's fire suppression program does not meet OFSM's minimum criteria.
For a community to receive a rating better than a Class 9, three elements of fire suppression features must be reviewed. These elements include: Emergency Communications, Fire Department, and Water Supply System. Emergency Communications accounts for 10% of the rating and evaluates the Fire Department's emergency reporting, telecommunications, and dispatch circuits. The Fire Department element accounts for 50% of the rating and focuses on the department's response, equipment, personnel and training. The last element, Water Supply System, accounts for 40% of the rating and reviews the community's water supply as well as hydrant placement and testing to determine the adequacy for fire suppression.
Harnett County Fire Marshal, Rodney Daniels, emphasized the importance these three fire suppression elements are for our county. "These PPC ratings play a huge role in determining residential and commercial insurance premiums. While all three elements are important factors, personnel and training account for nearly 25 percent of the rating. I would like to thank every fire department member for their contributions to maintaining and improving these ratings."
During Harnett County's recent inspections, local Fire Districts received the following ratings: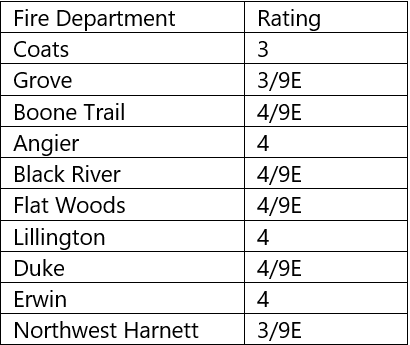 All Harnett County Fire Districts that were inspected, since January 2019, received a rating of a Class 3 or Class 4. According the OSFM statewide 2016 ratings, there are 1,532 Fire Districts in North Carolina, with 199 Fire Districts rated Class 4 and 61 rated Class 3. Less than 20% of North Carolina Fire Districts across the state have received a Class 4 rating or less.
North Carolina Insurance Commissioner and State Fire Marshal, Mike Causey, commented on the county's Fire District ratings. "The citizens in these Fire Districts should rest easy knowing they have a fine group of firefighters protecting them and their property in case of an emergency."
Daniels also commended the county Fire Departments for their efforts to improve their ratings. "Harnett County strives to protect our citizens and provide them with an enhanced quality of life. Our County's emergency services are comprised of mostly volunteers. Seventy-two percent of North Carolinas firefighters are volunteer. Fire departments need volunteers with various types of knowledge, skills and abilities. Please contact your local fire department to find out how you can help maintain these ratings while helping your friends, family and neighbors. This is your opportunity to get involved in something rewarding and meaningful that has a positive impact on your community."
For more information on Harnett County Fire Departments, contact Rodney Daniels, Harnett County Fire Marshal, at rdaniels@harnett.org or 910-893-7580.