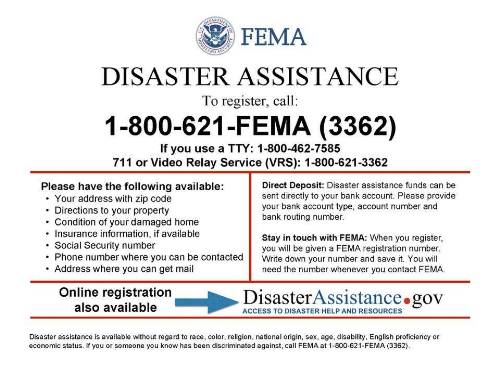 Disaster Assistance
The FEMA Disaster Recovery Center (DRC) located in the Harnett County Commons Area at 309 West Cornelius Harnett Blvd., Lillington, has closed. Residents may continue to register with FEMA by calling 1-800-621-FEMA (3362) or going to DisasterAssistance.gov. Residents who have already filed claims may continue to track their claim with FEMA via the website or by using their FEMA claim number.
Anyone who would prefer meeting with FEMA representatives face-to-face may also go to any of the DRC locations currently open in other counties. At the present time, the closest DRC to Harnett County is located at the Cumberland County Department of Social Services at 1225 Ramsey Street, Fayetteville. To view all FEMA DRC locations currently open in North Carolina, go to https://egateway.fema.gov/ESF6/DRCLocator.
The DRC provides an opportunity for residents to meet face-to-face with FEMA officials, as well as representatives from N.C. Emergency Management and the Small Business Administration, to learn what types of assistance they may be eligible for.
Protect yourself from scams following Hurricane Florence. If a FEMA representative comes to your door, they should be able to show you their FEMA badge that includes a chip and a hologram. If you see something suspicious or have questions, you should call 1-866-720-5721.
Construction Fee Waiver
The North Carolina General Assembly has ordered that counties and cities designated under a major Presidential disaster declaration for Hurricane Florence (which includes Harnett County) may not impose any fee associated with a permit, inspection, or certificate of occupancy required by law for construction, reconstruction, alteration, repair, movement to another site, removal, or demolition of a manufactured home, building, dwelling, or structure damaged as a result of Hurricane Florence.
This moratorium, which is part of Senate Bill 3, the 2018 Hurricane Florence Disaster Recovery Act, expires December 31, 2018. The moratorium does not apply to projects not directly related to damage resulting from Hurricane Florence.
Anyone who paid any of these fees to Harnett County Development Services on or after September 13, 2018, related to damage from Hurricane Florence is entitled to a refund, and should contact Harnett County Development Services and provide evidence that the damage was the result of Hurricane Florence to receive a refund of the fee.
For more information, contact Harnett County Development Services at (910) 893-7525 or go to http://www.harnett.org/planning/.
Hurricane Donation Sites, Assistance and Benefit Events
If you NEED ASSISTANCE or want to DONATE ITEMS to assist those affected by Hurricane Florence:
Gospel Tabernacle Church at 2015 W. Cumberland St., Dunn, is serving as a donation center, and is open for donations and distribution of donations to residents in need.
Items needed include nonperishable food, bottled water, baby supplies (diapers, wipes and formula), Ensure, dog and cat food, socks (new packs only), underwear (new packs only), batteries, cleaning supplies, and personal hygiene products.
Friendship Baptist Church at 6778 U.S. 401, Bunnlevel, is partnering with other nonprofit groups and area businesses to assistin repairing homes that were damaged by Hurricane Florence. The church is seeking monetary donations and volunteers to assist with this effort. If you need help, or if you would like to donate or volunteer, contact (910) 893-5901 or (704) 437-1184. Monetary donations should be made to Friendship Baptist Church, P.O. Box 120, Bunnlevel, NC 28323 with "Flo Relief" in the memo.
Road Closures
For the most up-to-date information on road closures in the county along with alternate routes and anticipated reopenings, go to https://tims.ncdot.gov/tims/RegionSummary.aspx?co=43.
Storm Debris Disposal in Harnett County
The North Carolina Department of Transportation will pick up storm-related vegetative and C&D debris that is placed in the public right of way of state-maintained roads. Please keep in mind that this debris MUST be storm-related, and MUST be separated by type of debris.
All of Harnett County's convenience sites accepted household trash, and will accept spoiled food from residents at no cost when they show their Harnett County decal. Anyone who does not have a decal may obtain one from any of the convenience sites with proof of their Harnett County address.
Both County landfills are accepting yard debris, and construction and demolition (C&D) debris. The cost for yard debris is $30 per ton. The cost for C&D is $45 per ton. If you have a major demolition project, please call ahead at (910) 814-6156. Individuals who take these items to the landfill should keep their ticket and document what they brought and where it came from to apply for reimbursement of their tipping fees from FEMA.
The County's two landfills are:
Dunn-Erwin Landfill at 449 Daniels Road, Dunn
Anderson Creek Landfill at 1086 Poplar Drive, Spring Lake
For landfill and convenience site locations and hours, as well as additional information about Harnett County Solid Waste, go to http://www.harnett.org/waste/site-locations-staff.asp.
Check back here for updates as they become available and be sure to follow "Harnett County Government" on Facebook and follow @HarnettCounty on Twitter.