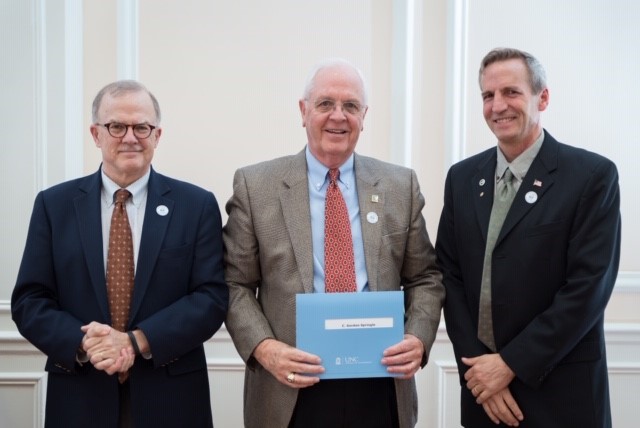 Gordon Springle, Chairman of the Harnett County Board of Commissioners, completed the Advanced Leadership Corps (ALC) training offered annually to county and municipal elected officials by the School of Government at the University of North Carolina at Chapel Hill.
ALC is a weeklong program designed by the School's Center for Public Leadership and Governance to help elected officials understand the broader challenges of governing in today's environment, to enable them to build their personal leadership abilities, and to give them an opportunity to learn how to lead and act collaboratively. Commissioner Springle gained valuable insight through this training stating, "This week long class allowed me to bring my focus on two areas: improving my leadership style and the vision we all have for Harnett County."
Springle was elected to the Harnett County Commissioners in 2012 as District 4 representative. He served as Vice-Chair from 2014-2016 and is currently Chairman. Prior to his service on the Board of Commissioners, Springle retired from N.C. Farm Bureau Insurance after 35 years of service as a District Sales Manager. Commissioner Springle has provided leadership for the county by serving on Harnett County Social Services Board, Board of Trustees for Central Carolina Community College, Chief Elected Official for the Triangle South Workforce Development Board, NCACC Agriculture Advisory Committee, NCACC General Government Committee and Vice-Chair of the Executive Board for the Mid-Carolina Council of Governments.
Springle is a resident of Angier. He and his wife have been married for over 50 years and have two married children plus 4 grandchildren. Springle is a member of Angier Baptist Church and Kiwanis Club of Angier.
More than 80 municipal and county elected officials from across North Carolina have completed this selective program since its inception, and this year, the School will celebrate the program's 100th graduate.
For more information about the Advanced Leadership Corps and other programming for elected officials offered by the Center for Public Leadership and Governance at the UNC School of Government, please contact Patrice Roesler at 919.843.4167 or roesler@sog.unc.edu.