Scholarship Awarded to Harnett Central High School Graduate Erin Holland
Harnett County Solid Waste, in partnership with Republic Services, has awarded the 2017 Environmental Stewardship Scholarship to Harnett Central High School graduate Erin Holland.
The scholarship, sponsored by Republic Services, is given as part of a partnership between the company and Harnett County to promote recycling and sustainability in the county. The scholarship is given to a Harnett County high school senior who contributes to their community through environmental stewardship efforts.
Erin said she became aware of the importance of recycling aluminum cans when she worked on a project in high school that involved weighing the amount of recyclables in her household waste stream. As an employee of a local grocery store, Erin encouraged her coworkers to place at least ten items in plastic bags and to provide an additional reusable grocery bag to customers who brought in their own reusable bags. She also stressed the importance of recycling cardboard at her workplace.
Erin is the daughter of Andrew and Michelle Holland. She will attend Methodist University this fall and plans to major in Psychology. She wants to learn about how environment affects the wellbeing of individuals and society.
Harnett County Solid Waste promotes sustainability through its programs, as well as the recently launched Keep Harnett Beautiful campaign, which seeks to promote the importance of cleanliness, recycling and reusability among Harnett County's citizens.
Harnett County also partners with Republic Services to operate seven recycling convenience sites within the county.
Joseph L. Dehner Jr., Republic Services' general manager for Raleigh-Durham and Eastern North Carolina, said the company is proud to support the sustainability efforts of Harnett County and its citizens.
"Republic Services believes in the preservation of a blue planet—a cleaner, safer and healthier world where people thrive—not just for today, but for generations to come," Dehner said. "We must lead by example, working diligently to improve our relationship with the environment and society through decreased vehicle emissions, innovative landfill technologies, use of renewable energy, community engagement and employee growth opportunities. We are privileged to serve more than 14 million customers in 240 markets across the country, creating effortless experiences that support their evolving needs and honor their unique commitments to improving their communities."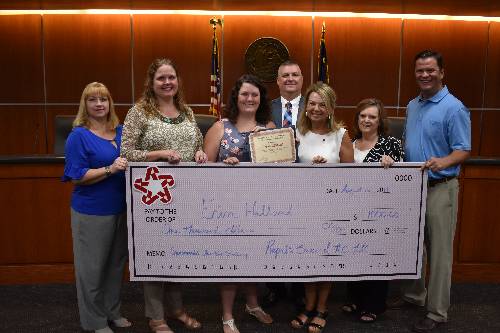 Officials with Harnett County, Harnett County Solid Waste and Republic Services present Harnett Central High School graduate Erin Holland with the 2017 Environmental Stewardship Scholarship. From left are Deputy County Manager Paula Stewart, County Engineer Amanda Bader, Holland, Republic Service Division Manager David Lawson, Republic Services Municipal Services Manager Josephine Aiken, Harnett County Solid Waste employee Terri Strickland, and County Manager Joseph Jeffries.