The arrival of a new year offers an opportunity to look back on past accomplishments and forward to what's in store for the new year. For Harnett County, 2016 was a year of transition, during which the County completed numerous major projects and laid the groundwork for even bigger things to come in 2017 and beyond.
Economic Development Expands
One of the top priorities of the Harnett County Board of Commissioners is Economic Development. In 2016, Harnett County Economic Development added staff and moved to a new location. An expansion of sales tax revenue allowed Harnett County to hire two additional economic developers, adding capacity to assist the department in accomplishing the goals set out in the Economic Development Strategic Plan, which was completed and adopted in 2015. The department also relocated to 200 Alexander Drive, Lillington.
Under the direction of Deputy County Manager Paula Stewart, each member of the three-person team of economic developers is dedicated to a different sector of the business community. Small Business & Downtown Development Manager Nick Dula works with small businesses and entrepreneurs to help them grow and build successful businesses; Existing Industry & Product Development Manager Angie Stewart serves as a liaison between the county's existing business and industry, and the resources they need to succeed, thrive and grow; and Marketing & Business Recruitment Manager Debbie Taylor markets Harnett County to attract new industry. The realignment of staff along with the services of Economic Development consultant Lee Anne Nance will allow Harnett County Economic Development to provide more hands-on service and to more readily tackle the economic development needs and opportunities in the county in the years ahead.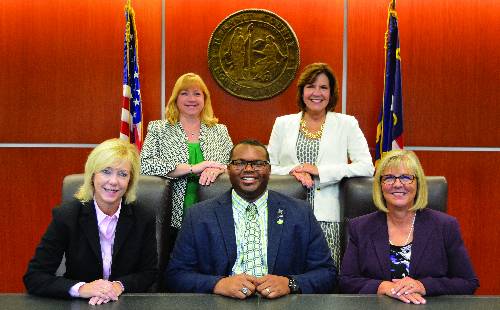 Parks & Recreation Plans for New Parks
Harnett County Parks & Recreation had a very productive 2016 that sets up an even busier year to come. The County was awarded a $400,000 PARTF grant to develop the first phase of a Government Complex Park, which will be located along the Cape Fear River off of Alexander Drive in Lillington. The park's first phase will be completed in 2018 and will include a walking trail with a boardwalk, canoe and kayak access, a river observation deck, ballfields, and multi-purpose fields. Future phases will include additional walking trails, a playground, splash pad, bocce court, basketball courts, sand volleyball, shelters and environmental education amenities.
Parks & Recreation also announced plans to develop a new park and community center on the Old Boone Trail School property on Old U.S. 421. The park will incorporate the former school's media center, gymnasium and ball fields, and will include a picnic shelter, small outdoor basketball court and a walking trail. The community center will also house a satellite location of the Harnett County Public Library with nearly 1,000 books as well as newspaper and magazine subscriptions. The site will serve as a pickup and drop-off location for reserved books, and will offer programs in fitness, arts and crafts, story time, and movies. The idea for the park, which will officially open in early 2017, came about after citizens in the Boone Trail community asked county officials to help them preserve portions of the abandoned school. The citizens are selling old high school uniforms from the school with proceeds going toward the park.
In addition to announcing two new parks, the department is currently developing the Harnett County Parks & Recreation Master Plan, which will look at existing gaps in recreational opportunities in the county, and will determine where new parks should be located and what new programs and facilities are needed. The plan is being completed with citizen input gathered from multiple community meetings, as well as surveys distributed to residents throughout the county.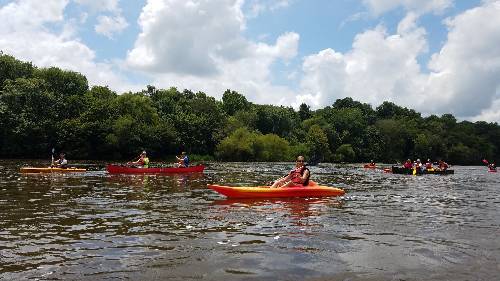 Public Utilities Grows Capacity
The Harnett County Department of Public Utilities (HCDPU) completed its expansion of the Harnett County Regional Water Treatment Plan, taking the plant's capacity from 24 to 42 million gallons a day (MGD) and making it the largest surface water treatment plant on the Cape Fear River—larger than plants in Fayetteville and Wilmington. Harnett County already has one of the premier utilities departments in the state. HCDPU provides service to approximately 125,000 people in Harnett County and the surrounding Cape Fear region, supplying water to four of Harnett County's five municipalities, as well as Johnston and Moore Counties; Linden and Spring Lake in Cumberland County; Holly Springs and Fuquay-Varina in Wake County; and Fort Bragg. Approximately 98 percent of Harnett County's residents have access to public water.
Solid Waste Adds Convenience
In the area of Solid Waste, Harnett County saw the construction of a new five-year cell for the Anderson Creek Landfill where the life of the construction and demolition debris landfill had expired. Harnett County Solid Waste is also in the process of adding two new convenience sites—the Ponderosa site at 721 Ponderosa Road, Cameron; and a renovated Campbell University site at 117 Kivett Road, Lillington. The sites, which will each have an attendant, will feature compactors for recycling and household trash. The projects are being completed with $30,000 in grants.
In 2016, compactors were added to the county's convenience sites to replace open-top containers that were unsightly, allowed water intrusion and required more frequent hauls for unloading. A new compactor was also added at the Anderson Creek Landfill and staff received certified training on Waste Operations Efficiency from Caterpillar. Repairs were made to the Dunn-Erwin Landfill transfer station.
The County's Environmental Officer, Deputy Gary McGuire, was also recognized by the North Carolina Solid Waste Enforcement Officers Association with the 2016 Solid Waste Enforcement Officer of the Year "Mike Stillwell Award" for his outstanding efforts to address illegal dumping and develop successful campaigns to address roadway litter, and for his community-based philanthropic projects.
In 2017, Harnett County Solid Waste will complete a hydrogeological evaluation for the expansion of the Dunn-Erwin Landfill. Solid Waste plans to move away from the old "hill" at the landfill, which has been in use for more than 20 years and will reach capacity within the next three years. The new expansion will be located nearby.
Development Services Addresses Problem Properties
Harnett County Development Services saw success with the endorsement of its Problem Properties Program. Funding of the program allowed staff to successfully remove seven homes that were proven to be a threat to their surrounding neighborhoods. The program has reduced safety and health hazards and stabilized property values in the addressed areas. One project site has also been conveyed to Harnett County Habitat for Humanity to help the nonprofit address housing needs in the county. Development Services staff are currently working with property owners to complete demolition and removal of another eight homes.
Development Services also got a fresh look in 2016, changing its name from the Harnett County Planning Department and reorganizing to better represent the department's services of Planning, Central Permitting and Inspections.
Social Services Advances Technologically
The Harnett County Department of Social Services implemented the first phase of its switch to its new Northwoods software for Adult and Children's Services, meaning the division no longer has paper casefiles. Instead, social workers use tablets in the field and have access to client files in electronic format while away from the office. Additional sections of the department will go paperless as phase II is implemented in 2017, and clients will be able to check themselves in at a kiosk in the lobby to cut down on lines and wait times.
Additionally, all Adult and Children's Medicaid cases are current in the NC Fast system. Child Support Enforcement met all goals set by the state for the third year in a row and brought in more than $3.9 million of child support payments into Harnett County. Food and Nutrition also met all requirements from the USDA to have Food Stamp cases processed in a timely manner.
Social Services also opened and maintained two emergency shelters during Hurricane Matthew in October, hosting 139 residents in the shelter at Harnett Central Middle School. Following the storm, DSS processed Disaster Supplemental Nutrition Assistance Program (DSNAP) applications from residents with assistance from the department's peers in Buncombe County. Out of 4,141 applications that were processed in a five-day period, 3,197 were approved for disaster assistance. Social Services also raised more than $2,500 through fundraisers to assist 45 elderly residents at Christmas through Adult Services' Christmas Cheer program.
Health Department Encourages Healthier Habits
In 2016, the Harnett County Health Department continued providing essential programming to the County's residents to improve community health outcomes. The department sponsored a series of educational workshops, lunch and learns, and conferences in 2016 with more than 500 residents in attendance. Events offered information on topics including heart health, high blood pressure, healthy cooking on a budget, breast cancer awareness and the Girls are Great program.
The Health Department used a grant from Susan G. Komen North Carolina Triangle to the Coast to support community-based health initiatives aimed at educating women on the importance of mammography screening and providing access to screenings in the County. In 2016, more than 200 women utilized the program and more than 1,800 received screenings at the Health Department. The Women, Infants, and Children (WIC) program, which provides supplemental foods, health care referrals and nutrition education for low-income women who are pregnant, breastfeeding or postpartum, and to infants and children up to age five who are at nutritional risk, served more than 36,000 participants in 2016 at the Health Department's three full-service sites in Lillington, Dunn and Spring Lake.
Within the Health Department, the Harnett County Division on Aging operated numerous programs that served some of Harnett County's more seasoned residents. The Division's Retired Senior Volunteer Program (RSVP) had 291 registered volunteers serving in 25 stations across Harnett County in 2016, accounting for 28,793 hours of unpaid, volunteer service in the community. The program sponsored six blood drives at the Harnett County Governmental Complex Commons Area, during which 243 units of blood were collected with the potential to save 729 lives. In 2016, more than 250 volunteers with the Elderly Nutrition Program served more than 42,000 home-delivered meals to seniors and approximately 18,000 meals at the County's six senior centers.
The Medicare/Senior Health Insurance Information Program (SHIIP) served 1,049 Medicare beneficiaries in 2016 and held 37 outreach events in the community. During Medicare open enrollment, the program served 709 and helped save Harnett County residents more than $500,000 in prescription drug costs. The VITA/NC Economic Tax Assistance Program prepared 2,650 tax returns at no cost to Harnett County's elderly, low-income and disabled populations.
Additionally, the Division's Grandparents Raising Grandchildren program, which includes 20 grandparents and 25 grandchildren, held a Back-to-School celebration at Carolina Skate Land in Dunn in August, with community donations providing backpacks full of school supplies to program participants. The Grandparents and Family Caregiver group also received more than $1,800 in donations and contributions, which allowed the group to purchase additional supplies for Alzheimer's disease and dementia patients in the program.
Commissioners Focus on Employees
County employees were also a focus of commissioners during 2016. The County's strengthened financial position allowed commissioners to provide fulltime employees with a one-time $1,200 bonus at the end of November. Commissioners also adopted a new Performance Pay Plan that will kick in after the existing 3/5 Pay Plan and will give employees the opportunity to earn increases throughout their careers with the county based on their performance reviews. Additionally, the County has commissioned a market analysis of its grade table to determine where the county's pay scale should be relative to surrounding counties and towns to help the County hire and retain talented employees.
The County also said goodbye to Board of Commissioners Chairman Jim Burgin and welcomed Commissioner Howard Penny Jr. to the governing body. Chairman Burgin, who opted not to run for reelection in 2016, served on the board for eight years and was voted to serve as chairman twice. During his penultimate board meeting in November, Chairman Burgin was awarded the Order of the Long Leaf Pine, the highest civilian honor bestowed by the State of North Carolina. The new board reorganized during their first meeting in December with Commissioner Gordon Springle selected as chairman and Commissioner Joe Miller selected as vice chairman.